In August of 2019 Searle Creative launched a new website for the Ventura College Foundation. The Foundation plays a huge role to help empower students in need and fuel the community's next generation of leaders.
As with many Searle projects, this website needed to serve a multi-functional, multi-user dynamic that has become a staple of our strategic and collaborative workflow.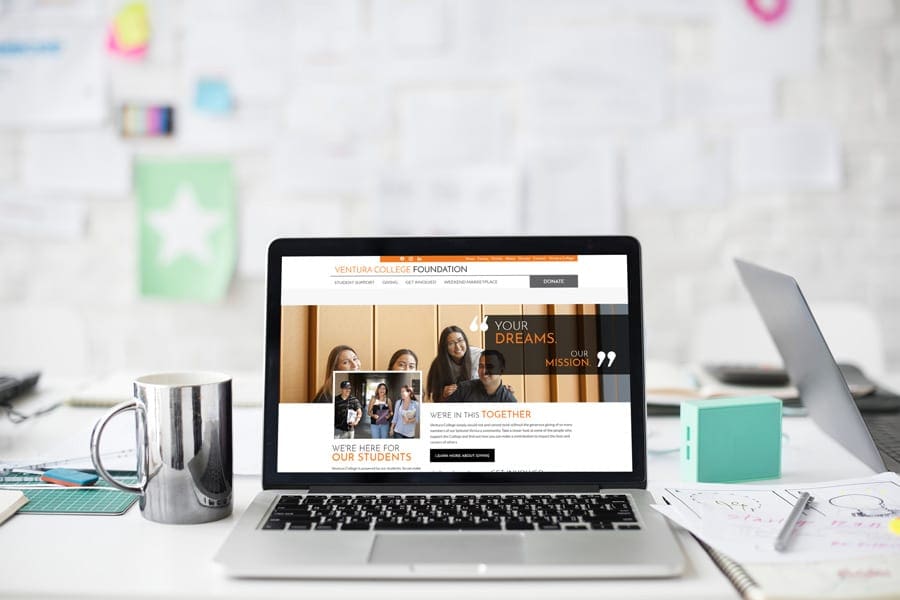 Donors. The College Foundation responsible for driving donations to supply funding for Ventura College scholarships. Donors need clear navigation, large calls-to-action and an immediate understanding of the foundation's mission and purpose.
Students. They also support the student body – these users need to be able to find and apply for scholarships, gather requirements for applications and explore services.
Weekend Marketplace. Enter a third user dynamic, the Ventura College Foundation also runs the Ventura College Weekend Marketplace as a fundraiser for it's scholarships. These users need quick information such as times and locations, as well as vendor information.
As part of our design workflow, we took a deep dive into the perspective of each of these users, and made sure to support them and their needs throughout our design process in navigation, page layout and information hierarchy.
We have had the pleasure and honor of working with the Ventura College Foundation staff on several projects over the last few years, including two ADDY award-winning annual donor report designs (2018, 2019). We are immensely appreciative of their responsive communication style and careful attention to detail, and look forward to supporting their marketing efforts with new and exciting projects in the future.