Facebook should not be your primary form of communication with your audience, even if you're paying.
There are people out there who need you, whether you're a huge institution, or a local shop, or event. And they need to hear from you. But let's get this out in the open: using Facebook as a sole means of distributing important or time-sensitive information to your audience is not okay. Using Facebook alone to post business updates is like asking customers to bypass the front door of your business, go around back, and ask your neighbor Tony if you're open today.
Your website is, and always should be, the number one place to post official updates. But why?
Facebook does not show your updates to your followers. Not many of them, anyway. Facebook is a pay-to-play platform. Unless you are constantly waving cash around, Facebook has no incentive to share your news with your followers, and less than 10% of your fans will get the information you are posting. Even if you are paying to talk to your fans, they are not all getting the message in their news feed. It's just the way the platform works.
But what about people specifically visiting your Facebook page to get the information and updates they need? I'm glad you asked. Let's assume for a moment that it is something people do.
Assuming these followers have the iron willpower to bypass a feed that is curated to make them forget how long they have been scrolling, and they manage to get to your actual page, finding the content they want is going to be a challenge. It's not your fault, and there's nothing you can do about it. In order to get to the information they need, your fans must dodge your photos, reviews, and video sections to get to your posts. Even if they make it down to your most recent post, they have major distractors on every other part of the screen. Will they make it to your post? Maybe, maybe not.
How do you get back in control and keep your followers updated with the information they need right now? Use your website for what it was meant for. The front door, official business, easy to consume, hub of your information flow. This is where you control the narrative about your brand, your updates, your critical information. Your website is under your authority and carries the weight of being the final word about what is happening in your world. Ask visitors to subscribe to your enews, get in their inbox. When you deliver content this way, you greatly increase your odds of spreading the information you need to get across.
If you're wondering if you can use Instagram, LinkedIn, or Twitter as a primary means of distributing critical news instead of Facebook, the answer is no. These are valuable, and often fun ways to communicate with your audience in a unique and engaging way – and they should absolutely be used if they are well suited to your industry and audience. But they cannot replace your official communication hub.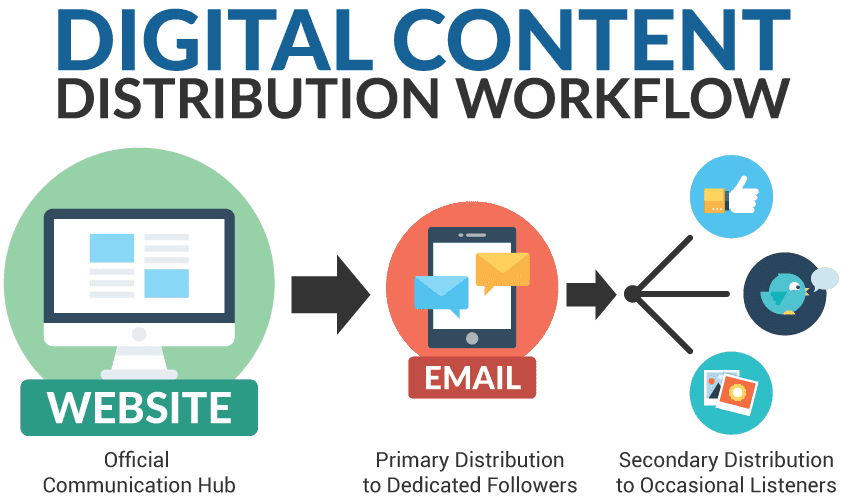 And yes, of course, then post on social media because people consume information in different ways, and you want the best chance of reaching your fans when and where they are listening. When it comes to your digital content distribution workflow, is your online reach incomplete? Searle Creative can help you streamline your process to reach as many listeners as possible, ask us how.